Aside from drawing focus on safety and health, what more can Local Government Units (LGUs) do during a community quarantine?
Last March 12, 2020, our dear Philippine President Rodrigo Duterte has placed the entire Metro Manila under "community quarantine." Read the full article here: Metro Manila placed under 'community quarantine' due to COVID-19.
Also, most, if not all local government units have already issued their executive orders or memo on COVID-19 threats. These orders range from the request on community quarantine, social distancing, practice, and course to contain and prevent the spread of the outbreak.
Here are a few to-do lists:
Be More Transparent on Issues And Concerns
Some LGUs were able to issue executive orders and memos and published these online through their official websites or social media channels. With this, residents can see the details as a copy of these documents are posted online, page-by-page. For example, the City of Ormoc Mayor, Hon. Richard Gomez, issued Executive Order (EO) No. 27, Series of 2020. This official document was an executive order regulating the entry of people coming to Ormoc via land and sea travel and imposing added measures towards the halt of COVID-19. Please view the details of EO 27 in the image below or check it out here also.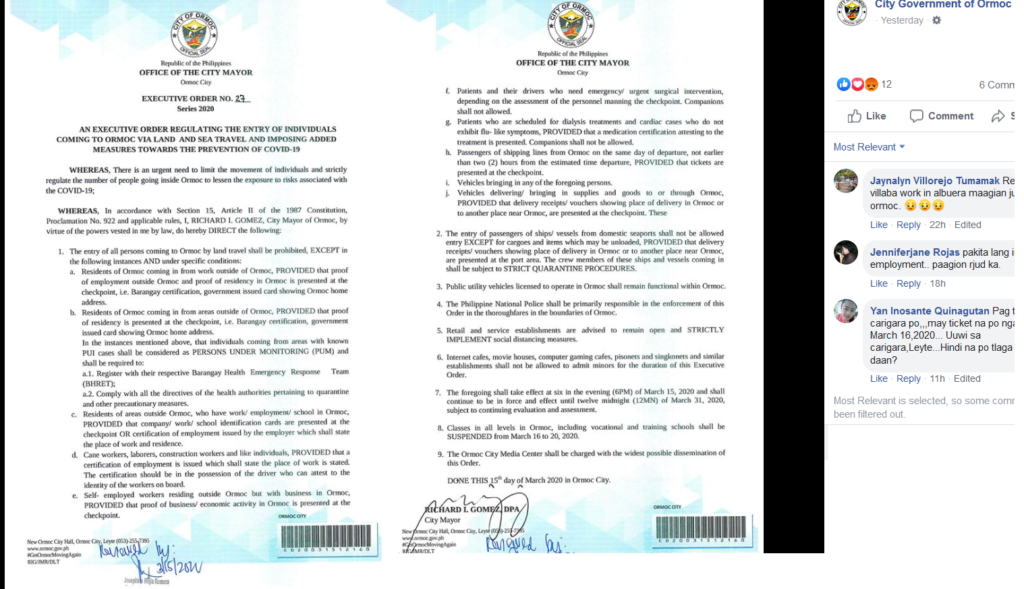 Better still, some city and municipal mayors, plus health and military officials, can go live to give official statements and discuss in detail pressing issues in their localities. Hon. Gomez also did this. Check out the live video shared by John Kevin Decio here: Hon. Richard Gomez signs Executive Order 27 shown above.
Be Ready To Give Frequent Updates and Vital Info
Residents, though under community quarantine, are mostly in the comforts of their homes. These netizens are regularly monitoring issues and concerns, not only at the national level but also on their local community.
Daily updates on the COVID-19 case news report, safety controls on a local dialect with images, and regional and local hotline numbers can be handy.
Also, aside from going live to explain memo and updates, hosting a party on Facebook, for example, would be a good practice for the netizens to know about updates and truly learn that the agency cares. An example of this is one of the many live videos of Ormoc City such as the movie clip of Mayor Richard Gomez addressing the residents regarding Covid-19.
Be Ready to Set Up Social Media Channels And Avenues For Engagement
Today, netizens are having a significant break from their family duties. They also have more time to engage in social media. Suspension of school classes and postponement of major gatherings and activities have given Filipinos a big break. Even a work-from-home arrangement in some areas is very calming. This option means more time for netizens to focus on the current issues and, at the same time, be heard. Some citizens also wanted to report to local officials. These concerned people might not know where to file a complaint or air their concerns. For instance, it is time to set up social media channels, like an Official Facebook Page and a Youtube channel. From here, come up with engaging content and fire up interaction from your residents.
As of today, Ormoc City's two – days old Facebook live COVID-19 Mini Conference already has 1.2 million reactions, and 1, 022 shares. The video has more than 61,000 views not only from Ormocanons but also from around the world. Wow, this is an interactive online service!
Do you have other ideas on what more can LGUs do during a community quarantine?
Please share your thoughts below.
What More Can Local Government Units Do During A Community Quarantine