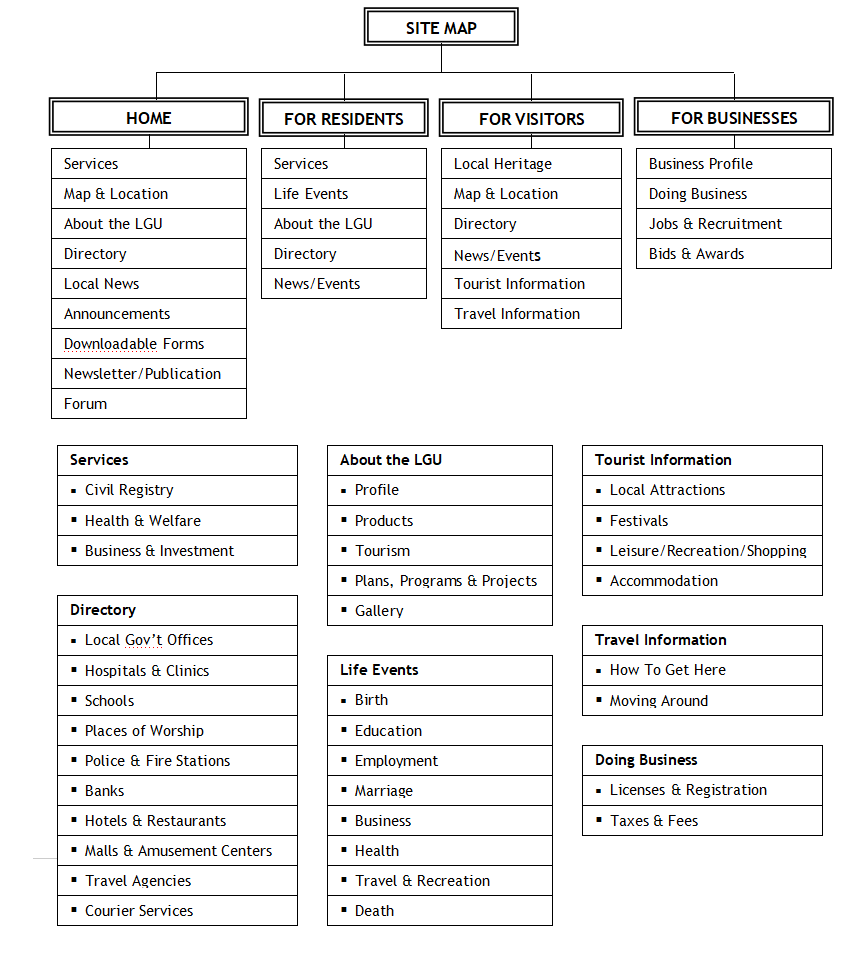 The Citizen-Centric Website Development Guide for Local Government Units of 2003 was a map with the end-user or the citizens in mind.
Though it is not anymore used today, this source can be vital in gathering details in the website creation.
The objectives according to this manual were to encourage LGUs with a static web presence to upgrade to a higher website stage, to facilitate the transformation of an LGU's existing website to a citizen-centric web presence and finally, to enhance the interaction between the local government and its citizens by instituting a citizen-centric website.
Main Menu – Home
Home is the main page or default page of the website. It can contain a short overview of the local government unit. Furthermore, it would be attractive to include photos on this landing page.
Under home is the Services section which summarizes the major services offered by the local government unit. Group the services according to Civil Registry, Health and Welfare, and Business and Capital.
Another section is the Map and Location, which include the image of the local map along with crucial geographical information.
About the LGU section can include vital information such as the profile – heritage, facts, mandate, and primary functions. Also included are organizational aims and objectives, organization, key officials, ordinances, and resolutions.
Main Menu – For Residents
For the residents, tailor this menu for the locals. This menu can also includes Life Events, which trigger residents' service needs. The News/Events contain all the latest events in the locality as well as news updates.
Main Menu – For Visitors
This menu option is for non – residents. It shall contain details such as a brief and concise write-up about the LGU's historical background. The LGU culture and traditions and the language, dialect, and way of life, among others, should also be a part of this menu. Like in the other menu, map and location with pertinent geographic data can be handy.
Main Menu – For Businesses
Business people would prefer to find the business profile of the LGU. Data on how to go about doing business in the locality would be a useful source. Procedures on licenses and registration, taxes, and fees are most likely to be the focus of the details in doing business.
Today, this Citizen-Centric Website Development Guide serves as a layout in gathering details for your website.
Need more help in making your website informative? Get in touch with us today.
The Citizen-Centric Website Development Guide for Local Government Units (LGUs)